Stewardship and Engagement
Stewardship is a powerful tool for change.
Through understanding how companies and issuers manage their environmental and social impact, operate and interact with stakeholders, we add value by identifying important ESG risks and opportunities. On top of that, as investors, we take additional steps to encourage positive behaviour, promote high standards, and ensure that the interests of all stakeholders are taken into consideration.
Stewardship aims to improve risk-adjusted return of investment through positive change outcomes. We engage with a range of stakeholders in the society to support better long term sustainable outcomes for the investors we serve.
How can stewardship add value?
Driving growth: In understanding how companies and issuers manage their stakeholders and ESG challenges, we spot visionary companies with the potential to grow and encourage others to adopt industry best practices.
Managing dynamic materiality of risks: We engage early with companies to help them navigate the dynamic risk landscape, protecting the value of assets, nature and people.
Improving transparency and disclosure: We inform companies on the rapidly changing disclosure and reporting landscape, and encourage them to disclose more effectively on important topics.
Christine Chow, Head of Stewardship and Engagement explains our approach and plan for 2022.
Key differentiators
How do we engage?
Research and analysis: we critically analyse companies through three key lenses (growth, risk and disclosure) that cover material and salient environmental, social and governance issues.
Company engagement: we engage with board members, executive management and subject experts to ensure companies are future-fit with long term financial sustainability. Our engagements are objectives-led with a six milestones tracking process.
Voting: we leverage voting rights to reward positive corporate development, drive behavioural changes, and hold company directors accountable when they fail to meet our expectations.
Clear escalation approach: We have in place a well established escalation procedure with a range of engagement tools and methods guided by industry best practices.1
Public policy engagements: we engage with policy makers and standard setters to support the integrity of the market and share industry best practices.
1: Professor Robert Eccles et al (2021) Value Creation of Active Engagement (English and Chinese versions available, City of London UK-China Green Finance ELF Forum. HSBC is a co-author.
For more details on our stewardship, engagement and voting guidelines, please see the documents below.
Our impact in numbers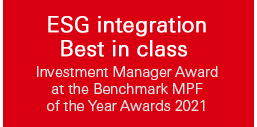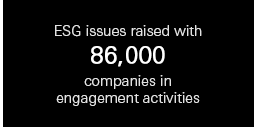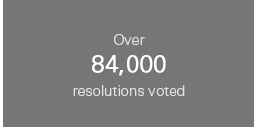 Source: HSBC Asset Management, data as of December 2021. The information contained in this publication is not intended as investment advice or recommendation.
For our voting disclosure, please click here.
2022 engagement themes #WeEngage