Building the future together
Making healthcare sustainable
HSBC GIF Global Equity Sustainable Healthcare
HSBC Asset Management is proud to announce the launch of its first Sustainable Healthcare Equity fund, a thematic fund that aims to drive social impact without sacrificing performance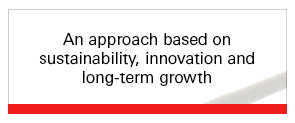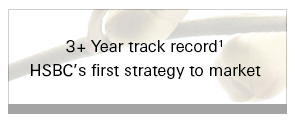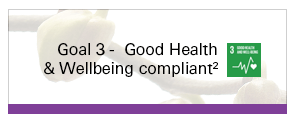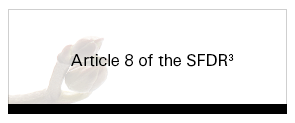 ¹ Formerly managed under a Swiss certificate before the launch in the HSBC GIF Luxembourg SICAV
² United Nations Sustainable Development Goals
³ Article 8 Product under the EU Sustainable Finance Disclosure Regulation = A financial product promotes, among other characteristics, environmental or social characteristics, or a combination of those characteristics, provided that the companies in which the investments are made follow good governance practices
Why invest in sustainable healthcare now?
Global demographic trends, combined with rising healthcare costs straining healthcare systems globally, are enhancing the demand for sustainable healthcare solutions and products
Because of rising healthcare costs, payers around the world (i.e. insurances, governments) are increasingly denying patients access to innovative treatments, which in turn negatively impacts company revenues
The healthcare system has begun to undergo massive and rapid changes to become more sustainable from a cost point of view
This macro-economic trend opens new investment opportunities in scientific, technological and business innovation that address both improved patient outcomes and cost effectiveness at the same time
Hear from our experts
Dr. Nathalie Flury and Dr. Michael Schröter, Co-heads Sustainable Healthcare, HSBC Asset Management
Sustainable Healthcare : an investment opportunity
Interview of Dr. Michael Schröter and Dr. Nathalie Flury, Co-Heads of Sustainable Healthcare Equity.
HSBC GIF Global Equity Sustainable Healthcare, an innovative and differentiated investment approach
A thematic fund that aims to drive social impact without sacrificing performance
High conviction and bottom-up analysis paired with macro-economic trend
Sustainable, long-term growth oriented

Why consider investing in HSBC GIF Global Equity Sustainable Healthcare?
A changing market environment, where customers increasingly demand products and services that improve patient outcomes as well as being cost effective, requires a change in investment strategy. By following an active, bottom-up approach the fund aims to provide attractive returns whilst investing in companies offering affordable innovation with distinct clinical differentiation.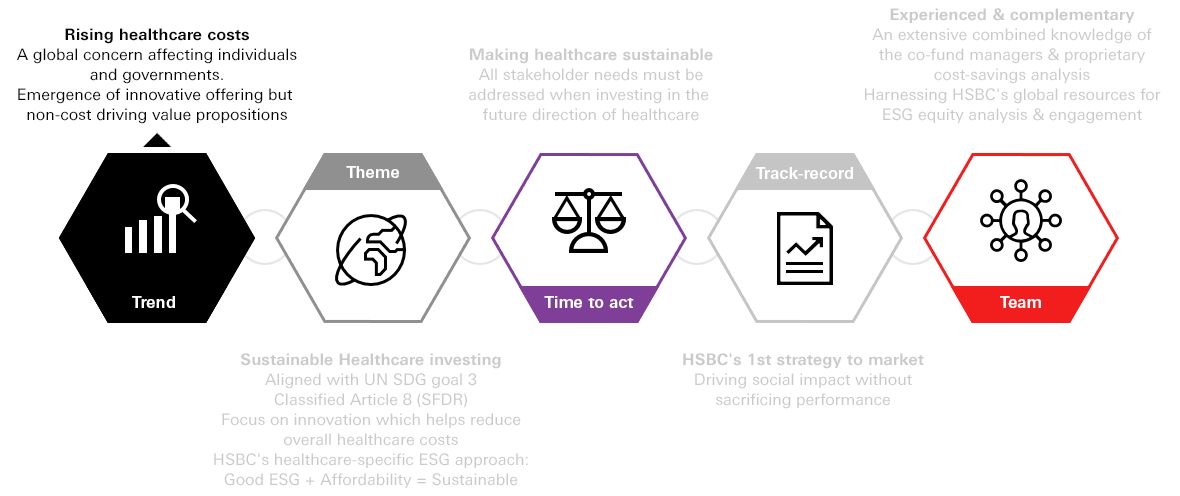 Experienced and complementary healthcare investment experts
The strategy is managed by two co-heads of Sustainable Healthcare Equity who have a successful track record managing healthcare equity strategies and who previously held executive positions in the pharma and biotech industries.
The investment team will leverage on proprietary insights driven by extensive global resources in equity and ESG research and stewardship.

Dr. Nathalie Flury
20+ years' experience as a fund manager, managing four European-based biotech and healthcare Lux. SICAV mutual funds and track record with custom made biotech and medtech mandates for family offices


Dr. Michael Schröter
20+ years' Pharma and Biotech experience in executive positions, covering access and pricing, R&D, business development and licensing in the US, Asia and the EU
Fund details
Fund domicile

UCITS, Luxembourg SICAV

Fund launch date

July 2021

Strategy launch date

23 April 2019

Benchmark (for information only)

MSCI World Health Care Index (USD)

ISIN

AC: LU2324357040
IC: LU2324357396

Asset Class

Equity

Fund base currency

USD

Dealing currencies

EUR, GBP, CHF, AUD, HKD, CNH, SGD

Fees and expenses

Management fees : 1.50% (A Share Class) | 0.75% (I Share Class)
Operating, Administrative & Servicing Expenses : 0.35% (A Share Class) | 0.25% (I Share Class)

Minimum Initial Investment

A Share Class: USD 5,000 & I Share Class: USD 1,000,000
Investor Resources
Sustainable Healthcare, healthy returns

Solutions based on client need, designed to mitigate risk and capture opportunities around environmental, social and governance (ESG) issues.

Our wide range of innovative, client-focused equity solutions across the investment spectrum are all driven by proprietary fundamental research and a robust investment process.
The value of an investment in the portfolios and any income from them can go down as well as up and as with any investment you may not receive back the amount originally invested.
Main risks of the fund:
Capital loss risk: It is important to remember that the value of investments and any income from them can go down as well as up and is not guaranteed.
Equity risk: Funds that invest in securities listed on a stock exchange or market could be affected by general changes in the stock market. The value of investments can go down as well as up due to equity markets movements.
Discretionary management risk: Discretionary management is based on anticipating the evolution of different markets and securities. There is a risk that the fund will not be invested at any time in the most efficient markets and securities.
Foreign Exchange risk: Where overseas investments are held, the rate of exchange of the currency may cause the value to go down as well as up. Variations in exchange rates between currencies can have a significant impact on the performance of the products presented.
Small caps risk: Please note that the fund is invested in securities issued by companies which, due to their small market capitalization, are less liquid and may present higher risks.
SRRI = 6 out of 7. Do not run any unnecessary risk. Read the Key Investor Information Document. The fund invests in instruments of high level of volatility. The value of investments can go up as well as down.
HSBC GIF Global Equity Sustainable Healthcare is a sub fund of HSBC Global Investment Funds, a Luxemburg domiciled SICAV.
Before subscription, investors should refer to Key Investor Document (KIID) of the fund as well as its complete prospectus. For more detailed information on the risks associated with this fund, investors should refer to the complete prospectus of the fund.
The shares of HSBC Global Investment Funds have not been and will not be offered for sale or sold in the United States of America, its territories or possessions and all areas subject to its jurisdiction, or to United States Persons.
Past performance is no guarantee of future returns. Future returns will depend inter alia on market developments, the fund manager's skill, the fund's level risk and management costs and if applicable subscription and redemption costs. The return, the value of money invested in the fund may become negative as a result of price losses and currency fluctuations. There is no guarantee that all of your invested capital can be redeemed. Unless stated otherwise, inflation is not taken into account.
The fund uses the swing principle calculation method which determines the net asset value of the fund. Swing pricing allows investment funds to pay the daily transaction costs arising from subscription and redemptions by incoming and outgoing investors. The aim of swing pricing is to reduce the dilution effect generated when, for example, major redemptions in a fund force its manager to sell the underlying assets of the fund. These sales of assets generate transaction costs and taxes, also significant, which impact the value of the fund and all its investors.
The fund has a redemption threshold (gate), the level at which the manager of an undertaking for collective investment in transferable securities can stagger the redemption of securities instead of proceeding immediately.
The commentary and analysis presented in this document reflect the opinion of HSBC Asset Management on the markets, according to the information available to date. They do not constitute any kind of commitment from HSBC Asset Management. Consequently, HSBC Asset Management will not be held responsible for any investment or disinvestment decision taken on the basis of the commentary and/or analysis in this document.
Tax treatment depends on The individual circumstances of each client and may be subject to change in the future.
HSBC Global Asset Management (France) - 421 345 489 RCS Nanterre.
Portfolio management company authorised by the French regulatory authority AMF (no. GP99026) with capital of 8.050.320 euros.
Postal address : 38 avenue Kléber 75116 PARIS
Offices: Immeuble Coeur Défense - 110 Esplanade du Général de Gaulle - La Défense 4 - 92400 Courbevoie - France
www.assetmanagement.hsbc.fr/fr
Copyright : All rights reserved © HSBC Global Asset Management (France), 2021.